NZBTT SILVER GALA
AUCTION ITEMS
See Proctors Auctions For Pre-GALA Online Bidding
Auction- Online &
Live on Zoom 6pm 05 Nov 2021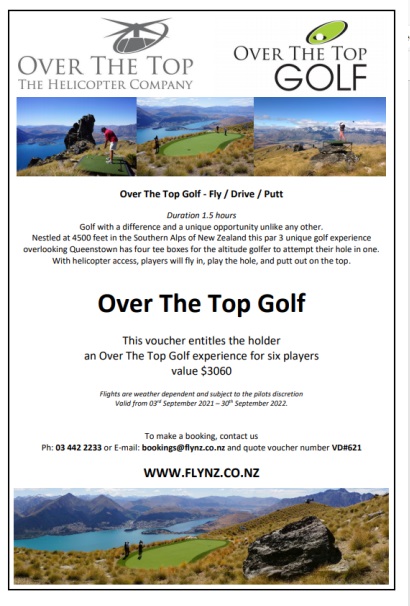 1. Over The Top Golf
Voucher for 6 people
Over The Top's adventure began in 1986 when Louisa (Choppy) Patterson realised her dream to showcase the secret parts of New Zealand to visitors who desired an experience not normally accessible. To soar amongst mountains, comb a deserted beach, sip pure water from a suspended alpine lake, land on a pristine glacier, meander through a rainforest and enjoy a picnic in a habitat seldom frequented by man.
 2. "Sparrow on a Split Cane Rod"
By Thomas Brown
Speargrass Road, Arrowtown
 36 cm  X 122 cm 2015

Memories of happy days fishing and the simple elegance of a single sparrow, this work would grace any wall with fond memories or expectations of expeditions and adventures to come! . 
3. The LINDIS Luxury stay
Two nights for two people
Designed for the utmost in luxury with superlative interior furnishing, unmistakably warm high country hospitality and a veritable plethora of activities on the doorstep.
https://www.thelindisgroup.com/
4. RIVERS OF GOLD
By Jenny Mehrtens
A Framed Giclée Print On Fine Art
Paper With Gold Leaf Applied By Hand. 43cm X 43cm
"While Painting My Series Depicting The Chinese Miners Of The 1860'S, Two Words Kept Emerging: Respect And Resourcefulness. I Have Great Admiration For The Miners And Have Painted These Images To Recognize The Lasting Contributions And Presence Of The Chinese Miners In Central Otago. The "Rivers Of Gold" Refer Not Only To The Physical Sources Of The Miners' Livelihood But Also To The Enduring Heritage And Ancestral Lines That They Cultivated."
Jenny Mehrtens Is An Arrowtown Based Artist. Primarily A Painter, Her Works Are In Collections Around New Zealand And Overseas. See Jenny's Work At The Shed, Level 2/4 Buckingham Street, Arrowtown And Www.Jennymehrtons.Com
5. "

HOGAN'S GULLY AUTUMN TREE

"
By Thomas Brown
Speargrass Road, Arrowtown
165 cm X W. 122 cm 2019
This is a significant Collectors piece. The last tree remaining from two at the bottom
of Thomas's drive. The lower South Island's autumn splendor depicted in a single image. Thomas studied in the US, worked at the Louvre in Paris, and has works in significant collections all over the world, including the Getty family.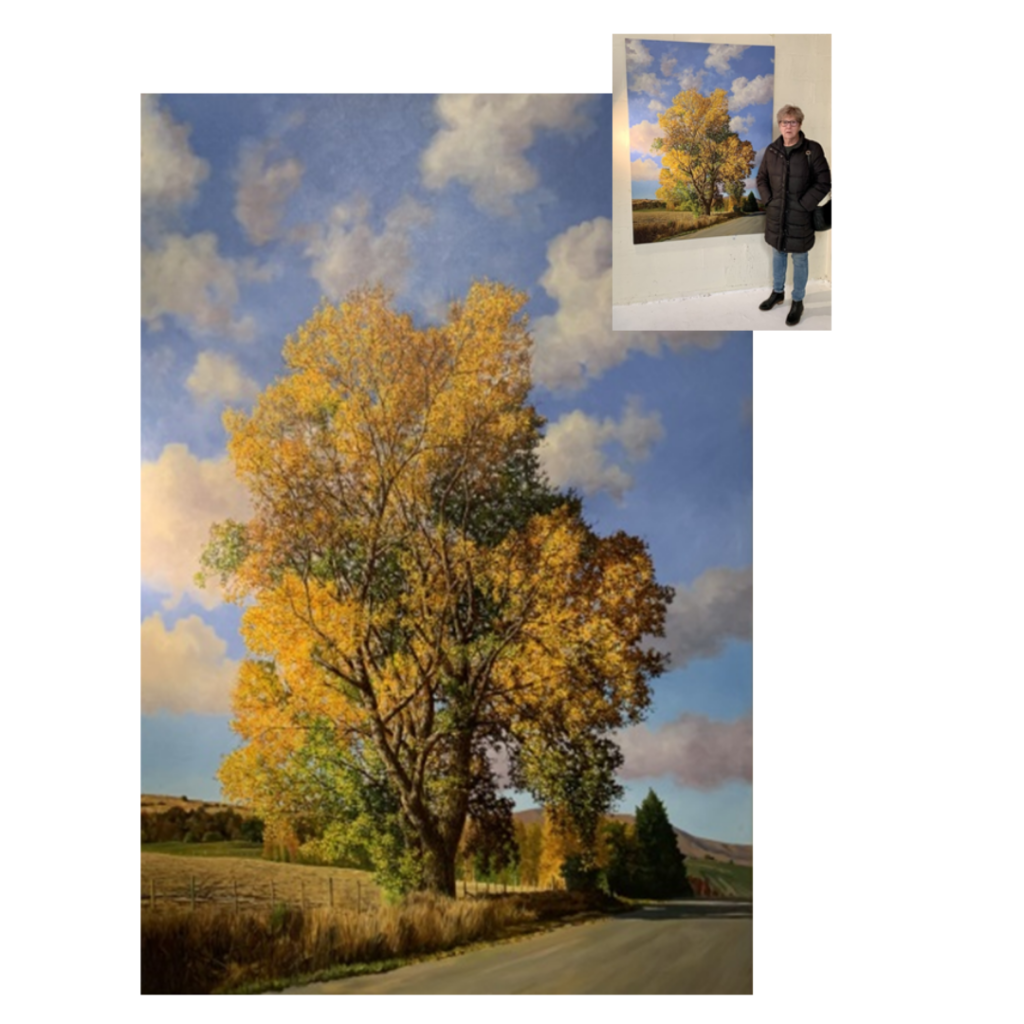 6. Southern Adventures Hunting
Trip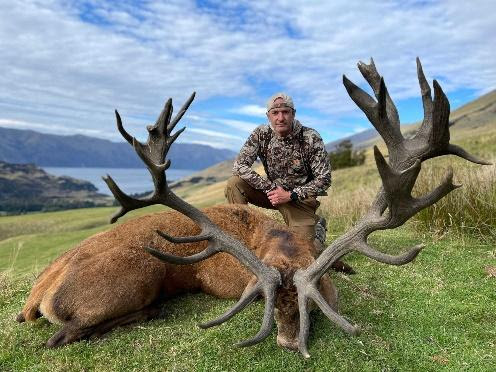 An early morning start from Queenstown with a one-hour drive to a high-country station. Clients can shoot 2 venison meat animals and as many pigs and goats as they find in their day of hunting. The end-to-end freezer-filler for Kiwi adventurers: wild organic meat as salami, sausages, bier sticks, pork roasts, steaks, saveloys and many other options are available from our butcher. Snacks, drinks, lunch, firearms and all preparation of meat for delivery to the butchery is included. Butchery and freight costs are at the Hunter's expense.  The package is transferrable from a meat-gathering hunt to a trophy hunt. Southern Hunting Adventures plans and guides real and unforgettable hunting experiences. Their hunters have amazing access to diverse swathes of New Zealand hunting acreage and specialise in the South Island's 'big four': the mighty red stag, the stoic Himalayan tahr, the athletic alpine chamois, and the territorial fallow buck. They also hunt elk, Merriam's turkey, boar, goat, wallaby, and rabbit. Operators Sheldon Lye and Li Shi (Lee) have 16 years of hunting experience, 9 professional guides and a team of support professionals to take give a custom designed adventure in the wilds of New Zealand. www.trophyhunting.co.nz
7. ROSES from MOSES - WITHDRAWN as moses is in auckland in level 3
Have you seen "The Bachelor"? Here we give you the opportunity to receive your own rose from Moses and a selfie.
Priceless!
Silent Auction-
Online Until the Live Auction Commences
1. Triple Strand Sterling Silver Necklace
By Zantedeschia ROBINI
Grounded in the fundamentals of traditional silversmithing, Zantedeschia Robini's work emerges from a conceptual base, a fascination with form and a love of adornment. Zantedeschia uses curves, textures and simple geometric shapes to create modernist jewellery – small 3D forms with a lineage back to mid-century design and informed by a minimalist aesthetic. From my small collection pieces to larger, single gallery works, everything is crafted lovingly by hand
2. Catch-A-Fish Experience from




'High Country Salmon'
Twizel-Omarama Highway, Glenbrook, 
Suitable for the whole family, you can catch your own glacial mountain salmon and take it home. No gear required and no experience necessary. Although walk-ins are available, we recommend booking to guarantee your spot. RRP depends on how big a fish you catch!!
For more information, to book, or to see our terms & conditions, please visit our website – www.highcountrysalmon.co.nz/pages/catch-a-fish 
3. "Picnic Lunch For Two In The Vines And Truffles"
Black Quail Estate Vineyard And Truffière
Bannockburn, Central Otago
Fancy a picnic amongst the vines and wine tasting in the wine cellar at the 2021 Home of the Year? No problem! This includes a gourmet lunch and a few vintages from the library stock.
4. Karearea (NZ falcon) at Poolburn.
By Rebecca Gilmore
Limited edition giclée print from a run of 75.
A limited edition print from a fine art realism painting in acrylic signed and numbered by Rebecca.  A certificate of authenticity is also signed and dated by artist. Size is 500mmx560mm
5. "Winter Dawn In The Ahuriri Valley"
Photograph
On Canvas By Jessie Lenagh-Glue
"Winter Dawn in the Ahuriri Valley" by Jessie Lenagh-Glue. Our very own Trustee  Jessie, exhibited and sold works in the US before moving to NZ. Her work was recently chosen as a finalist in the Otago Museum Wildlife Competitions "Our Impact on the Environment" Category. At 46cm x 30cm on canvas it captures Aotearoa New Zealand's peaceful beauty. It was taken from "The Lindis" Lodge (see above). Signed and dated by Artist.
6. Wanaka View Motel "Two for Two"
Spend 2 nights in a modern chalet in the center of beautiful Wanaka, enjoying an awesome view of the lake and Mt Aspiring. Your hostess Pip Wood, will ensure that your stay in Wanaka is a memorable one.
Zest Cakes Queenstown is an artisan bakery creating cakes, biscuits, slices and sweet treats in Queenstown, New Zealand.
Originally Zest Kitchen Queenstown, Zest Cakes has been part of the Queenstown community for almost 20 years selling wholesale to businesses in Queenstown such as Raeward Fresh (former Mediterranean Market).  Now, their cakes are available direct to everyone.
Instagram and Facebook – zestcakesqueenstown 
8. Relishescafé Wanaka
99 Ardmore Street, Wanaka
Eat the best of Wanaka!Wanaka is our place. For 30 years Relishes has created modern New Zealand cuisine from the wild and wonderful ingredients at our door. Join us for fresh, delicious, imaginative food at breakfast, lunch or dinner.
9. Onsen Time!!
Daytime Pass For 2 People
Onsen Retreat & Day Spa is located high on a cliffside overlooking the magnificent Shotover River canyon, providing views over breathtaking alpine scenery and the perfect vantage point to watch the Shotover Jet boats on the river below.
 Our Original Onsen Experience and its idyllic cedar-lined hot tubs have long been a highlight for Queenstown visitors and locals alike. A unique feature of this experience is the retractable roof which allows you to convert your room from indoor to outdoor and back again at the touch of a button.
10. CHARMAINE REVELEY GIFT VOUCHER

Charmaine offers a full custom garment making service from her Dunedin workroom. If you can't find what you want off the rack or would like a remake of your favourite Charmaine Reveley shape from the archives, she would be happy to help you. She will work one-on-one with you to find the perfect shape and fabric for any special occasion. 
2125 Cardrona Valley Road, Cardrona.
Between Wanaka and Queenstown, New Zealand.
The Cardrona Family Reserve Tour: This exclusive experience will further your whisky tasting skills, while providing you with deep insight into Whisky maturation. You will be hosted by either our Master Distiller, Sarah Elsom, or Kenny Vaugh, Operations Manager of Cardrona. Our time will focus deeply upon warehousing and maturation. You will have the special privilege of tasting spirit directly from cask, and then selecting and personally hand-filling your own exclusive bottle of single cask Cardrona Single Malt Whisky, from a choice of three exceptional casks preselected from our stocks. We will explore the impact temperature, foods and texture have on the Whisky drinking experience.
12. Gourmet BBQ And Steamship Cruise From REAL Journeys.
Enjoy a Cruise on the historic steamship TSS Earnslaw across beaurtiful Lake Whakatipu and a gourmet BBQ dining experience at Walter Peak Station. Lunch or Dinner- your choice.
13. The Rees Hotel Accommodation

Voucher
LThe many exceptional features at The Rees Hotel include a library of rare books and art, courtesy shuttle to/from Queenstown town centre, complimentary high-speed Wi-Fi, movies and local telephone calls, conference rooms, a fully-equipped gymnasium, secure undercover parking, electric car-charging station and its own private beach and wharf accessing jet-boat and water taxi services. Guests can swim from our wharf or beach – but it's not for the faint-hearted!
Our team of experienced local and international staff pride themselves on delivering professional friendly service that consistently exceeds our guests' expectations and is a hallmark of The Rees Hotel's reputation.
14. Monarch Cruise Family Voucher 1
Family Voucher No 1 for 2 adults and up to 3 children, RRP $158
Offering award-winning cruises and tours for over 35 years, Monarch Wildlife Cruises and Tours provide Otago Peninsula tour experiences with unrivalled access to remote locations and protected wildlife. The Monarch team works closely with several conservation groups like the Dunedin Wildlife Hospital and Yellow-eyed Penguin Trust. The owner and operator of Monarch Wildlife Cruises, Neil Harraway was an executive, director and producer of wildlife documentaries for Discovery, National Geographic and other global broadcasters for 40 years. The last nine years in eco-tourism has strengthened his love for Dunedin's special nature and he enjoys telling stories of southern ocean animals and Aotearoa's unique land animals to the Monarch's visitors.
15. Monarch Cruise Family Voucher 2
A 1-hour cruise out of the Otago Harbour from Wellers Rock wharf in Dunedin past the tidal sandflats of Aramoana, the historic Harington Point gun emplacements, the Taiaroa Head lighthouse and out to sea. You'll see royal albatross in flight, furseals, petrels, cormorants, and other rare bird species. Occasionally we spot blue penguins, NZ sea lions and dusky and hectors dolphins. Crew give a full commentary on the animals we spot and ensure guests are safe and comfortable
16. Millbrook Golfing ExcursioN
Millbrook is simply an unforgettable Queenstown golfing experience.
This award winning golf course has also been voted Best Golf Hotel at the World Golf Awards and named Oceania's Best Golf Hotel in New Zealand.
The course was originally designed by renowned professional and master golfer Sir Bob Charles, then renovated by Greg Turner in October 2010 with the addition of The Coronet Nine. Surely one of the most magical golfing venues in the world, Millbrook offers a 27-hole course brilliantly conceived and shaped from the rugged mountain landscape. 
                         Please CHECK OUT PROCTORS for the final list
18. 1KG Round of Wakatipu Brie
A double cream brie-style cheese. Made using Cow's Jersey milk, this Brie is a rich and decadent cheese with a deep yellow colour when fully matured. Best enjoyed at room temperature, this is a beautiful white mould style cheese with a soft, bloomy rind that tastes of fresh mushrooms. At Gibbston Valley Cheese we supply a range of hand-crafted cheeses made in the traditional European style. Specialising in handmade artisan cheese using New Zealand cow, goat and sheep milk, all our cheeses are sourced from small South Island farms using vegetarian rennet. Our Cheesery and Cafe is located in historic Arrowtown. Nestled between picturesque hills and the Arrow River – the perfect setting to enjoy a delicious platter of our best assorted cheeses. Find them at 25 Ramshaw Lane, Arrowtown and www.gvcheese.co.nz
19. Golfing Experience at Jack's Point
Value $1000. The award winning spectacular Queenstown 18 hole par 72 championship course on Lake Wakatipu beneath the Remarkables
20. ImagoImage Private Colour Consultation
A 1 hour colour assessment that finds the lifestyle or work clothing and accessory colours that best suit your colouring and help you look your best. Suitable for a man or woman.
21. ImagoImage Professional's Image Consultation
A 2-hour foundational consultation to help you develop personal impact and an effective appearance that works for you in your work or public life. 
22. A. J. Hackett Bungy for two!
23. MEN'S GROOMING EXPERIENCE
Cut, Wash, Style & Cut-Throat Shave
A consultation, full haircut, hair wash, style with a straight razor finish, followed by hot towels and a cut-throat shave by highly skilled traditional barbers.
Gents barber shop is a full-service men's grooming outfit
providing a traditional barbershop environment with a modern touch. A retailer of the highest quality men's grooming products, skincare, accessories and gifts, they sell top quality products that have stood the test of time, including some of the world's finest shaving equipment and hand-crafted masculine, sterling silver jewellery from Canada. Located at First Floor, 35 Shotover Street in the centre  of the Queenstown CBD.  Call 03-4090249 to make an appointment or book at www.gents.co.nz