Care | Couture | Cure, Olveston, 24 Sept 2020
What a successful, swanky Soirée evening in September! 
The NZBTT hosted a marvellous fundraiser evening of canapés, couture and billiards on the 24th of September.
The Care | Cure | Couture Soirée showcased a silent auction, speeches, cocktails and the latest couture from highly coveted NZ designers. This fashion show was a great highlight for many guests!

We are extremely grateful for all the support and generosity shown by the community.
> Click on gallery images to enlarge.
Cookbook Launch Dunedin & Auckland, 10-11 Feb 2020
An amazing launch of Sai's cookbook! Thank you to everyone who came and to everyone who purchased all those copies for friends!
Thank you especially to Mirani who made the atmosphere so special with her saris, and those cinnamon and cardamom aromas!!
If that string hadn't broken we would we would also have enjoyed Carthika's veena- but we look forward to another time instead!!
The cookbook is available at our website or at the publishers website.
Video from Dunedin Launch
At right, Sai explains some of her photographs to Lady Diana and Sir Richard at the Auckland Cookbook Launch. Many of the photographs are of Sai and her family.
Dunedin "Walk Around the World" 26 October 2019
We had a great time thanks everyone who joined us on our inaugural walk to raise awareness of brain tumours, by walking the amazing Dunedin Street Art Trail. So many more to see that you just don't notice by driving past!
The weather behaved and our youth group did a great job remembering the details of the art works.
Thanks to Ash at Gud Coffee and Anika's Mum at 'Ronia and Pippa' for the great coffee and healthy juices, respectively, along the way too!
And who were those superheroes?
– Janaya, Caiden, Teha and Caeli – supporting those fighting against brain tumours.
And many congratulations to our Dunedin walker, Katy Guthrie, who won the draw of the well-deserved pamper package generously  donated by Rochelle Muir of
Real Massage
.
Kariotahi Beach "Walk Around the World" 2 November 2019
A beautiful beach walk started with poignancy and hope by Anne-Marie's story about her Mother and Family. Indeed, so many touching stories. Sir Richard brought his research laboratory workers (such an enthusiastic intelligent lot!) and family (with the youngest cuties). Couldn't resist the occasional canines amongst us too!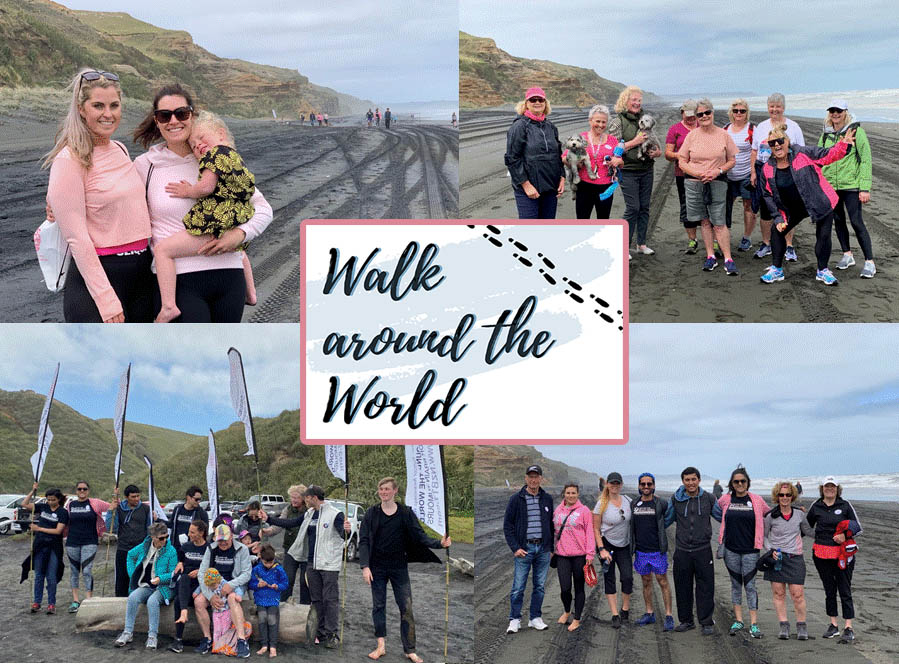 Thank you to our amazing youth braving a 'slightly cool' early morning at the Dunedin Farmer's Market and Centre City.
They raised over a thousand dollars and a few eyebrows with their life size model of a brain!
NZBTT Launch, Hutton Theatre, Otago Museum, 13 September 2019
A Fabulous Launch!
So many to thank!! Thank you to everybody who attended, bought raffle tickets, gave speeches and ensured that the evening made for such an auspicious start. Guests, friends and family came from all over New Zealand – Auckland, Hamilton, Queenstown, Christchurch. The Minister of Health, the honourable David Clark, declared the Trust operational and heard our important messages.
Thank you to Michelle Branford for reinforcing our purpose and focusing our thoughts for darling Ritchie. Tania Slatter who highlighted new research. Sai Yoganathan, who dedicated her most beautiful cookbook to her late Father who suffered a brain tumour, and for donating all of the proceeds to the Trust. Thank you also to Practika Lal for guiding us through this most enjoyable and succesful evening as MC.
We also thank Michelle at the Otago Museum, Gordon at BBCatering, the NZBTT Youth Group, our musicians, piper Elizabeth, and wonderful Trustee speakers, Ahmad Taha, Chris Medlicott, and Janice Royds.